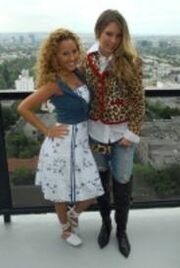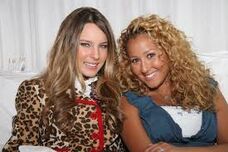 Marisol-Chanel Relationship
(best known a Manel or Charisol)
is the relationship between
Chanel Simmons
and
Marisol
.
There they meet Spanish pop artist Marisol, who will also compete in the Music Festival, and her manager/mother,Lola, who plans a scheme to break up the Cheetah Girls, as they pose a threat to her daughter's chances in the competition, and she starts making Marisol distract Chanel from The Cheetah Girls.
Right before Chanel is going to get changed to perform with Marisol, the Festival Director informs that the Cheetah Girls are able to perform after getting a tip. Everyone is surprised when they see that the informer was his nephew, Angel. He informed that Lola tried to sabotage the Cheetahs, and his uncle reinstates the girls as the Cheetah Girls. Lola tries to dispute, but the Director will not hear it. Marisol finally tells off her mother, saying she is quitting the competition because she loves to sing and her mother is just desperate to make her a star. Chanel invites Mrisol on stage calling her her "Spain Amiga Cheetah".
Ad blocker interference detected!
Wikia is a free-to-use site that makes money from advertising. We have a modified experience for viewers using ad blockers

Wikia is not accessible if you've made further modifications. Remove the custom ad blocker rule(s) and the page will load as expected.