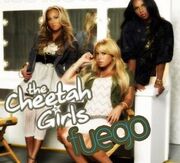 '
"Fuego" '
is a song by The Cheetah Girls, and is the second single from their second studio album,
TCG
. On their official MySpace profile, the girls described the song as a "party anthem" with "Latin influences", and a sample of Lionel Richie's '80's hit single "All Night Long (All Night)". The song was released in the United States on September 15, 2007 on Radio Disney. It peaked at #27 on Billboards Hot Dance Club Play chart.
Promotion
Edit
As promotion for the single and for the album, the Girls performed "Fuego" on Good Morning America on October 12, 2007 and on The Early Show on October 13, 2007.
Music video
Edit
The music video was directed by Marcus Roboy on October 21, 2007 and it premiered on Disney Channel on November 22, 2007. It received heavy rotation on Disney Channel and MTV 3. The video revolves around the three girls dancing with a crowd of people at a party. Throughout the video are scenes of the girls dancing while other people are performing a dance routine in front of a reddish orange background.
Chart (2008)
Peak

position

U.S. Billboard Bubbling Under Hot 100 Singles
22
U.S. Billboard Hot Dance Club Play
27
Ad blocker interference detected!
Wikia is a free-to-use site that makes money from advertising. We have a modified experience for viewers using ad blockers

Wikia is not accessible if you've made further modifications. Remove the custom ad blocker rule(s) and the page will load as expected.